Even easier-to-understand results thanks to ChatGPT
New feature for the AI fact check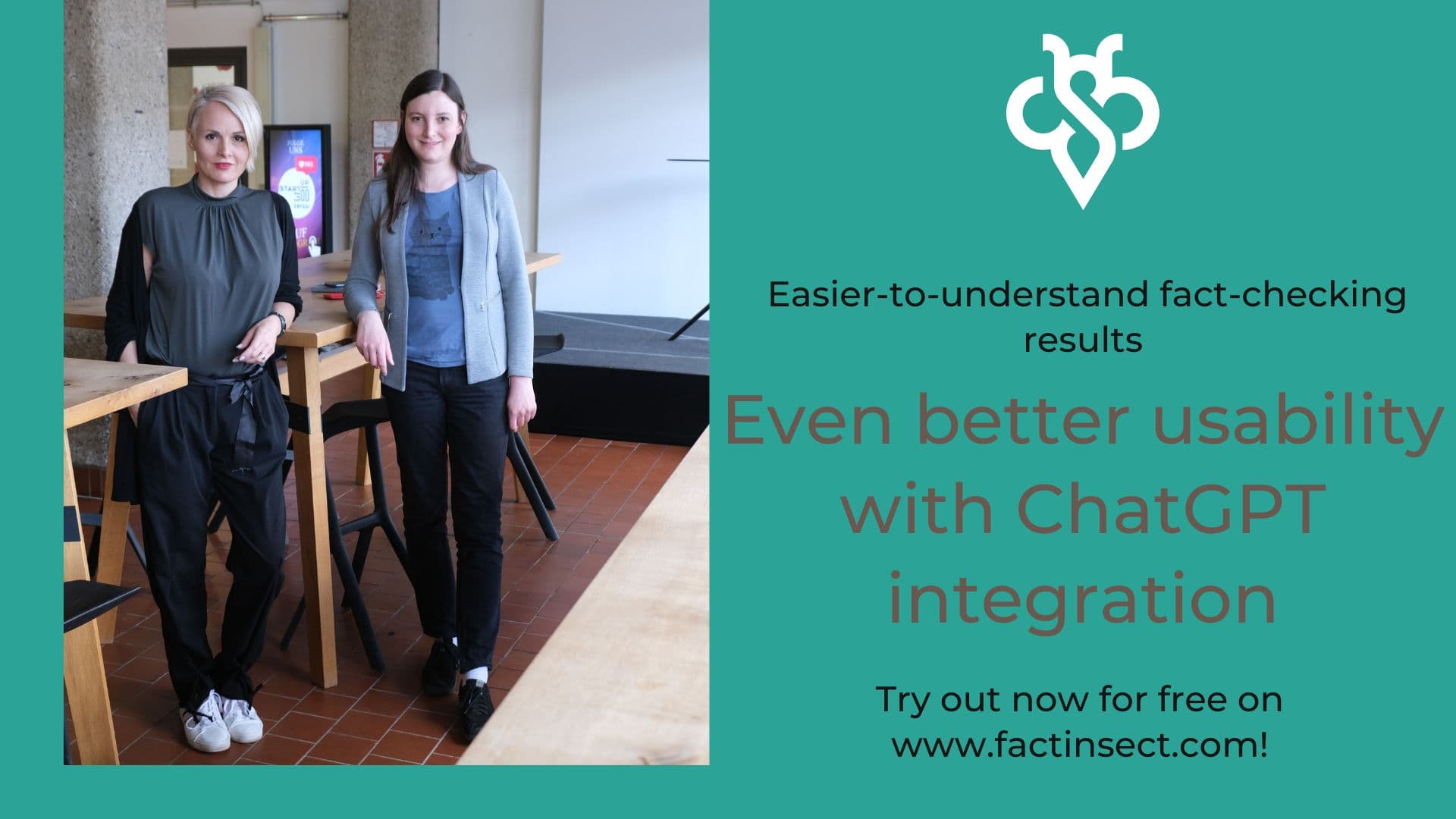 Word should have gotten around that Factinsect is a tool for checking the credibility of text content from the Internet - with a result that is completely transparent. With the integration of ChatGPT, Factinsect now has a new feature: ChatGTP translates the fact check result into understandable everyday language. With consistently high quality and transparency.
Try it for free
If you want to see the new result presentation for yourself, it's very easy to do so at www.factinsect.com. Step 1: register. Step 2: Insert a claim or a link to an article in the input field. 3. Press the "Search" icon. The result appears within a few seconds.
Of course, we adhere to the guidelines for ethical AI. This means that the final decision always lies with the users. The result of the AI fact check is a clear indication of the credibility of the information. In many cases, this means for the users that the actual work is just beginning for them. For example, because the Factinsect result is: 'There is no clear evidence for this claim!'"
For people and companies who intend to use the fact check occasionally, we provide a freemium version. Media houses, educational institutions, news aggregators, social networks and other companies integrate Factinsect directly into their systems via API (interface) and can thus carry out thousands of fact checks within a short time. Interested? Simply request the API at office@factinsect.com!
Journalism and media: a future without AI is unthinkable
Factinsect makes the work of media professionals so much easier. Whether research or quality control - journalism will soon be unthinkable without the support of artificial intelligence.
There is a huge amount of "user-generated content" on social networks, but also in the comment sections of online media. User-generated content is not published by professional journalists, but by a wide variety of people. The quality of this content is diverse, the moderation is extremely time-consuming and often emotionally stressful for those responsible for the task.
Even now, even social media giants like Facebook mainly use human labor for content moderation and fact-checking – an almost unmanageable effort. And thus a huge market for us, which we are really looking forward to.
The AI-based software was the first of its kind on the market. It uses AI technologies that will have a significant impact on our future, such as natural language processing, natural language recognition, machine learning or self-learning software programs.
Awards and traction
We don't want to hide our light under a bushel, so here is an excerpt from the list of our successes and awards: Incubation in the High-tech and Space-tech Incubator Science Park Graz, Winner Startup Live, Winner Wiener Gründerinnentag Startup Pitch, Finalist European Women Startup Competition, Styrian of the Year award for Romana Dorfer, participation in the EU Media Futures Program, participation in the #glaubandich Accelerator Program, World Summit Award finalist, "Company of the Month" Styria, recommended for public administration by the Austrian Federal Procurement Organisation, investment interest from investor Hans Peter Haselsteiner on the start-up show "2 Minutes, 2 Millions", etc. The company is based at Graz University of Technology.